Program Overview
Major ID: 264A
Program Start Dates: Fall 
Health Information Technicians play a vital role in the health care industry by participating in the creation, completion, distribution and retention of medical record documentation according to policies and procedures outlined by several regulating bodies such as the Joint Commission on Accreditation of Healthcare Organization (JCAHO) and Medicare.
Individuals enrolled in the program will obtain a broad body of knowledge that will allow them to become employed in many capacities within a health information department. Some of the positions include such tasks as: release of information, various registries, incomplete chart room, processing of medical documentation, coding and abstracting, and may include supervisory or leadership roles based on skill and ability. Students who successfully complete the Health Information Technology degree may apply to write the national certification examination given by the American Health Information Management Association. Upon successful completion of the certification examination, the credential of Registered Health Information Technician is awarded.
Career Opportunities
Graduates of the Health Information Technology degree will find positions in various health care settings such as private physician offices, clinics, specialty clinics, hospitals, long-term care facilities, and rehabilitation facilities. Employment can also be found in government offices, the insurance industry, dental and chiropractic clinics, and information technology suppliers.
Program Outcomes
Graduates will apply basic medical sciences in accordance to the profession.
Graduates will demonstrate use of office and healthcare-based software applications.
Graduates will demonstrate the use of health information management practice standards.
Graduates will perform accurate medical coding in accordance with official guidelines for coding and reporting.
Graduates will perform health information data analysis.
Graduates will model professional and ethical behavior consistent with the American Health Information Management Association (AHIMA) Code of Ethics.
Graduates will interpret and apply federal regulatory standards as applied to healthcare. 
Program Faculty
Jennifer Anglin
jennifer.anglin@saintpaul.edu
Kelly Dale
kelly.dale@saintpaul.edu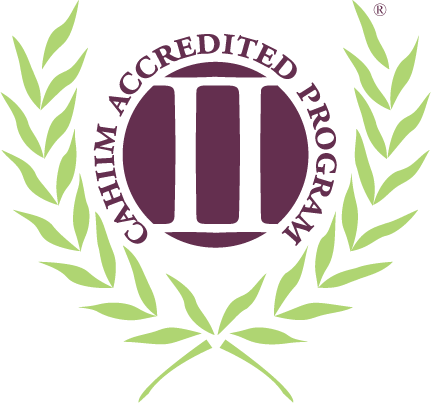 The Health Information Technology AAS Degree Program is accredited by the Commission on Accreditation for Health Informatics and Information Management Education (www.cahiim.org).
Part-time/Full-time Options
This program can be completed by using a combination of online, day, evening, and Saturday courses. Part-time and full-time options are available.
Admission into the Program
Being admitted to Saint Paul College does not imply admission into the Health Information Technology Program.
All Health Information Technology students are required to complete an online orientation seminar to complete documentation prior to beginning any courses within the program of study.
Students admitted into the Health Information Technology Program are required to work with a faculty program advisor to arrange an educational program plan leading to graduation from the program.
Health Information Technology students are encouraged to communicate with their faculty program advisor prior to the start of each semester regarding their educational program plan. *Failure to communicate with a faculty program advisor may lead to increased time to complete the degree.
Transfer Opportunities
Saint Paul College has transfer agreements & partnerships between many post-secondary institutions. For more information please go to saintpaul.edu/Transfer.